Document Workflow Automation
The Honor Society of Phi Kappa Phi came to us with a request to remove the paper from their lives. We helped them move over 5,000 applications per year from paper to digital and continue to improve their workflow every year.

The Honor Society of Phi Kappa Phi is the nation's oldest and most selective multidisciplinary collegiate honor society and initiates more than 30,000 members a year on 300 campuses in the United States and the Philippines.
When they first approached us for help, Phi Kappa Phi was using a snail mail and paper based workflow to receive over 5000 applications a year for their different award programs. Each application then had to be copied at least three times to provide a paper copy of the application for each reviewer. Needless to say, this was time consuming and wasteful. An online application process was clearly the right way to go.
Deliver the most functionality for the smallest cost.
We believe in making any solution prove itself before prior to doing a big spend. With Phi Kappa Phi, we were able to start with a subset of their programs to get the digital application process up and running. In the first year we moved the application process for five award programs online and took over 3000 applications for a single award program.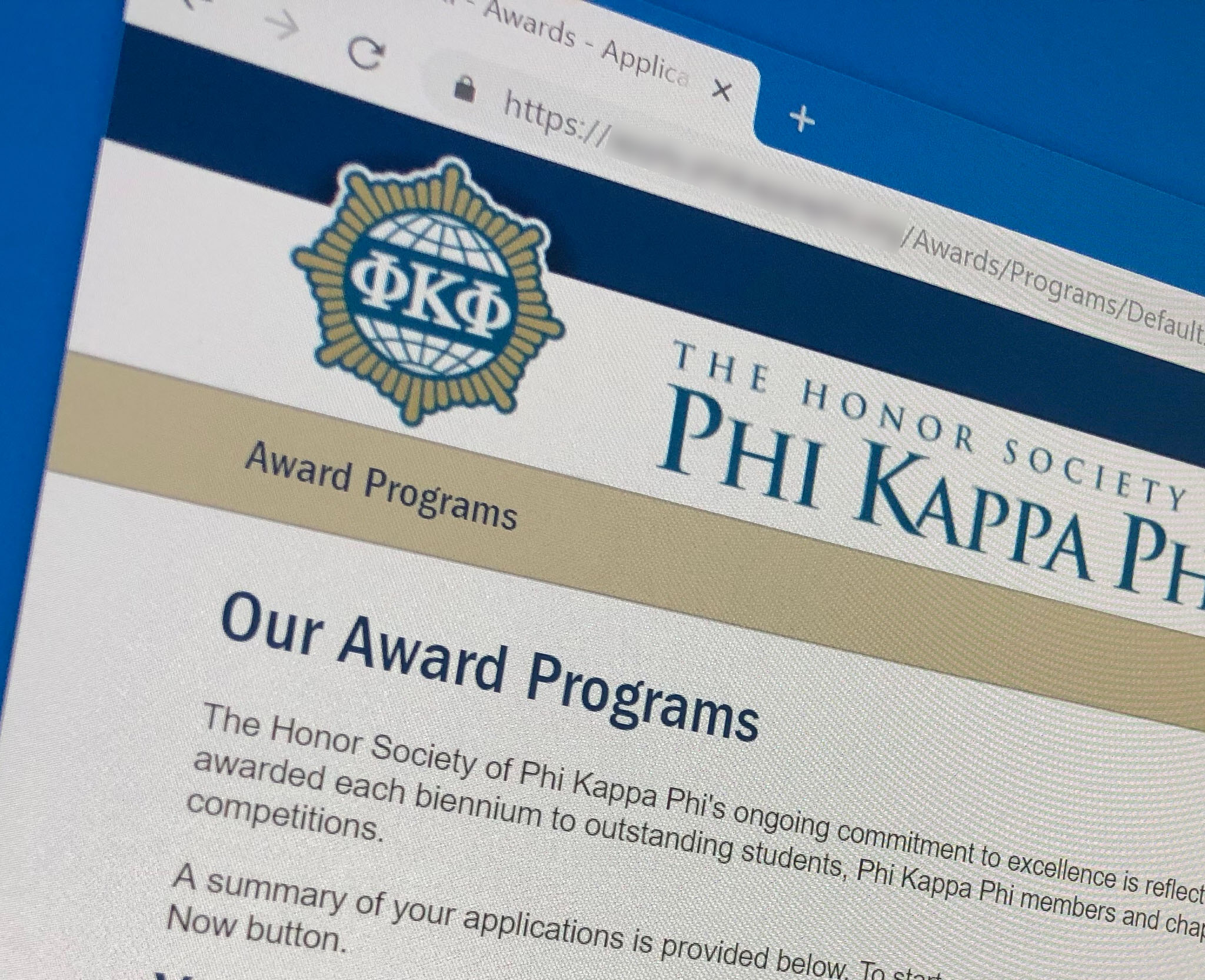 Efficiency Gains
With digital applications, reviewers could now be randomly assigned to applications, log in to their review portal and be walked through the review process and scoring matrix one application at a time. Gone were the thousands and thousands of paper copies, never to be seen again.
The Value of Data
Digital applications made all of the back office processes for tracking application status and determining winners much easier. Want to see if this applicant applied last year? Easy! No need to go dig in a file cabinet. The result was faster turnaround of awards, with fewer mistakes, and significantly less manual labor.
Captures formerly paper-based scholarship and grant applications from applicants electronically.
Allows applications to be suspended/resumed at a later date.
Automates tying scanned, mailed-in documents (such as transcripts and letters of recommendation) to pending electronic applications.
Automates distributing the completed applications to a review committee, including multiple passes of review with randomized round-robin distribution.
Converts electronic applications back to PDF for the review committees.
Continual Improvement and Expansion
Over the last five years, we have nearly doubled the size of the program to include 9 of the awards that Phi Kappa Phi funds each year. Each year, we revisit what worked and what didn't, and we plan a scope of work for the next year that ensures that the digital workflow is always getting better.
We value long term relationships and every year, we look forward to revising and expanding the awards software to meet ever changing business needs. It's some of the most rewarding work we do.
We believe in incremental improvements — we strive to deliver the most functionality for the smallest investment.
Microsoft SQL Server
Microsoft ASP.NET Web Forms
Crystal Reports for PDF application formatting
"Velocity Squared is second to none when it comes to software development. Their commitment to excellence is evident in both their products and customer service. It is always a pleasure to work with their team!"